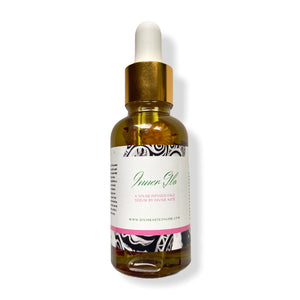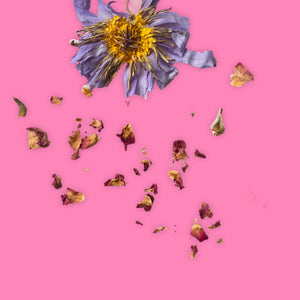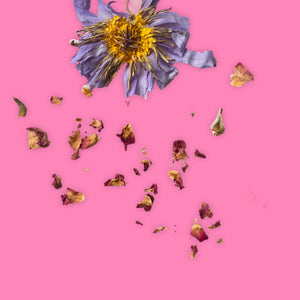 Inner Glo is a solar infused gemstone filled face serum that will having you glowing from the inside, out.
I let dried lavender, rose petal, and calendula infuse into argan, rose hip, and jojoba oil for 30 days under the heat of the sun, which sustainably infuses the flowers properties into the oil. The flowers are strained and the oils are blended with an harmonious mix of essential oils. Each bottle is filled with charged raw gemstone chips, and blue lotus flower that infuse good vibrations and euphoria into every bottle. It is lightweight and aromatic making it a great addition to your self care routine. 


How To Use: Apply 3-4 drops around a clean face and massage gently in an upward motion. This oil is great to use with a gemstone face roller or gua sha massage face tool. 


Key Ingredients: Argan oil, jojoba oil, rose hip oil, dried lavender, calendula, rose petal, and blue lotus flower.
Essential Oils: Grapefruit, Geranium, Lavender Spike, and  Frankincense. 


Size: 1oz
Vegan 🌱 Sustainable 🌳 Small Batch 
One bottle will last you 2-4 months depending on use and skin type. See recommendations below:
Combo Skin: 2-4 times a week
Dry Skin: 5-7 times a week
Oil Skin: 1-2 times a week
 Gemstones
Amethyst: Peace, Meditation, Positivity
Rose Quartz: Love, Connection, Harmony 
Citrine: Joy, Energy, Motivation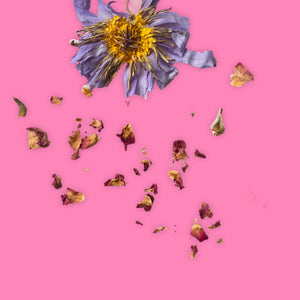 Spa Treatment ?!!
I get so much Peace seeing the crystals and herbs in the serum bottle!
Not only do I know there are fresh clean ingredients inside, but I also feel refreshed & spiritually connected!
I have been using this face serum along with the Face Wash: Raw Manuka Honey and my face is so much smoother. I had some really annoying whiteheads on the sides of my nose and chin.
They're gone now! I am extremely Grateful for this product!