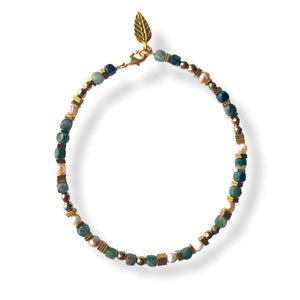 Summer is here and this lightweight gemstone-filled anklet is the perfect minimalist piece to add to your jewelry collection. You can stack it with other anklets or make one your everyday go-to. This looks great with oxfords, sandals or barefoot in the sand. Pearly Jade brings together Canadian Jade, pink fresh water Pearls, and Gold Plated Hematite Heishe Beads for an elegant look and a soothing feel. 
Grab a soft measuring tape and measure the width of your ankle in inches. This anklet does not stretch but fits up to a 10-inch ankle. 

For custom sizes please send us a email to order. Any size is possible because everyone deserves a great piece of jewelry. 
 This piece is handcrafted to order. Orders ship between 4-6 days.