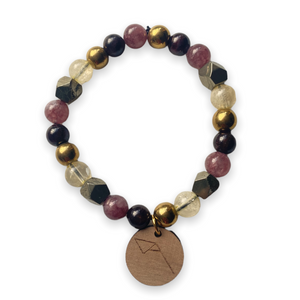 Beaded Gemstone Bracelet: Vibes
Vibes is a bracelet combining Lepidolite, Citrine, Garnet, Pyrite, and Hematite gemstone beads. The gemstones of this bracelet is encouraging, nurturing, and protecting; promoting growth and wellbeing. This is a very intentional piece made for someone on their journey of self discovery. We highly recommend creating the stacked look below by pairing the Minimalist Vibes bracelet with this piece.  
Gemstone Glossary: This is the energy these gemstones exude.
Lepidolite: Nurture, Peace, Emotional Stability
Citrine: Energy, Joy, Prosperity 
Garnet: Courage, Positive Thinking, Vitality 
Pyrite: Manifestation, Abundance, Alignment
Hematite: Protection, Grounding, Focus
Fit:
This bracelet is on a stretch material and fits up to a 8inch wrist. For custom sizes please send us a message. We can make adjustment at no extra charge. 
Care: Avoid contact with perfume, oils, and chemicals. - Take off jewelry when working out and showering. - Store jewelry in a dry tangle-free space like a jewelry box, or rack. 
All pieces are cleansed and charged on selenite before they ship so you don't miss the vibe. ✨
Handcrafted to order. Please allow 3-5 days for design.