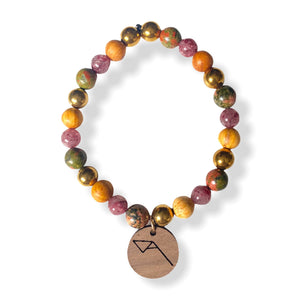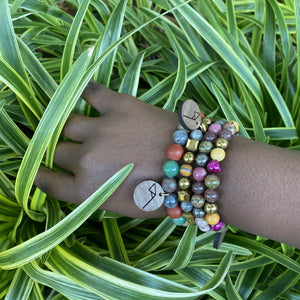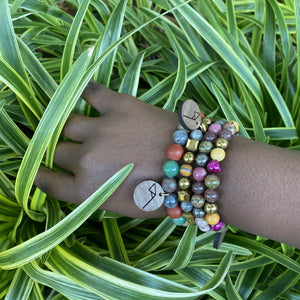 Beaded Gemstone Bracelet: Palo Santo
Palo Santo is a Peruvian wood that is found all throughout the Amazon rainforest. These Palo Santo beads are sustainably harvested from Ecuador and they are worked in with a combination of gemstones: Unakite, Gold Plated Hematite, and Strawberry Quartz. This bracelet is vibrant and aromatic. You can wear this everyday and enjoy the aromas of the Palo Santo beads. They also give you the opportunity to enjoy the cleansing properties of the wood and the gemstones working together to uplift you. 

Materials: 
Sustainably Sourced Handcrafted Palo Santo Beads, Gold Plated Hematite, Unakite, and Strawberry Quartz. 
Gemstone Glossary:
Hematite: Grounding + Absorbs Negativity + Protection
Strawberry Quartz: Gratitude + Generosity + Energy Amplifying
Unakite: Vision + Enlightenment + Balance
Palo Santo: Creativity + Smoothing Energy + Clarity  
Fit:
This bracelet is on a stretch material and fits up to a 8inch wrist. For custom sizes please send us a message. We can make adjustment at no extra charge. 
Care: Avoid contact with perfume, oils, and chemicals. - Take off jewelry when working out and showering. - Store jewelry in a dry tangle-free space like a jewelry box, or rack. 
All pieces are cleansed and charged on selenite before they ship so you don't miss the vibe. ✨
Handcrafted to order. Please allow 3-5 days for design.