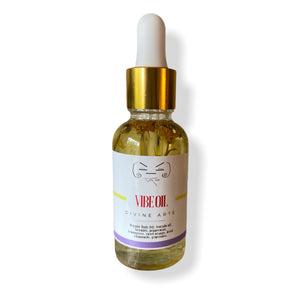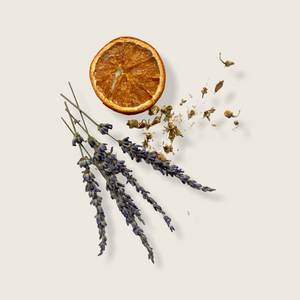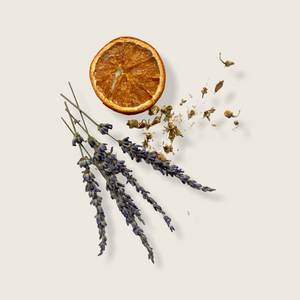 Vibe Oil is a luscious body oil that is simply handcrafted bringing together avocado oil, and a harmonious blend of essential oils that soothe and uplift. 
I blend a secret balance of lavender, sweet orange, lemongrass, and peppermint essential oils into high quality avocado oil. Each bottle is filled with charged raw gemstone chips of your choice, and dried chamomile flower that infuse good vibrations and calming energy into every bottle. It is a medium weight oil that is quickly absorbed and aromatic making it a great addition to your daily skin nourishing routine. 


How To Use: Daily as a post shower hydrating body oil. Set intentions of self love as you massage this luscious oil into the skin. It doesn't take long for this oil to soak in so no need to wipe it off with a towel. Let the oil sink into the skin as the aromas uplift your mood. The 1oz is great to keep in your purse for dry hands and the 4oz is perfect for daily use. 
Key Ingredients: cold pressed organic avocado oil. 
Essential Oils: Lavender, Sweet Orange, Lemongrass, Peppermint 


Size: 1oz
Vegan 🌱 Sustainable 🌳 Small Batch 
One bottle will last you 2-4 months depending on bottle size, use and skin type. See recommendations below:
Combo Skin: 2-4 times a week
Dry Skin: 5-7 times a week
Oil Skin: 1-2 times a week
 Gemstones
Amethyst: Peace, Meditation, Positivity
Rose Quartz: Love, Connection, Harmony 
Citrine: Joy, Energy, Motivation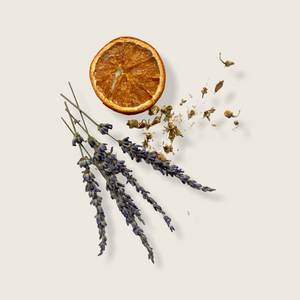 Great for keeping hands moisturized!
I love keeping this with me in my home office for a nice aromatherapy pick me up and to keep my hands moisturized against using so much hand sanitizer!