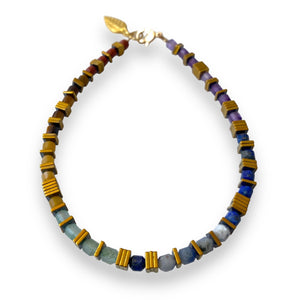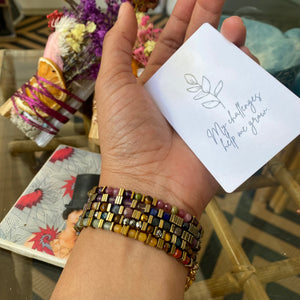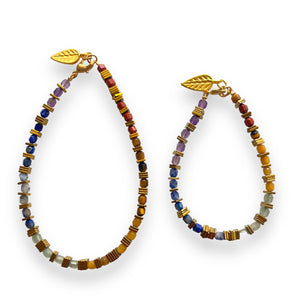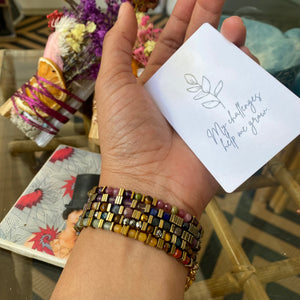 Minimalist Gemstone Bracelet: Chakras Aligned
This hand beaded bracelet is dainty and lightweight offering a minimalist look, with fine details from our latest collection Chakras Aligned.  Our intentionally progressive stone pattern promotes balancing our internal chakra energy. The gemstones incorporated in these pieces specifically corresponds with the chakra they represent. This set combines gold plated Heishi Hematite, Red Jasper, Orange Aventurine, Tiger's Eye, Green Aventurine, Sodalite, Lapis Lazuli, and Amethyst gemstone beads. The seven chakras these stones represent are the main energy centers of our body. Because of our life experiences we tend to have energy blockages and that refers to the idea that when all of our chakras are open, energy can run through them freely and then harmony can exist between the physical, mind, and spirit. This piece was intentionally made to help bring awareness to your own energy orbit so you can you navigate your healing journey with integrity.
These stones have been charged and cleansed to reset their healing properties.
Style
These are stackable and minimal for a light layered look.
Materials
4mm - Gold Filled Findings - Gold Plated Hematite + Red Jasper + Orange Aventurine + Tiger's Eye+ Green Aventurine + Sodalite + Lapis Lazuli + Amethyst
Fit
fits up to a 7.5 inch wrist (which fits up to an average size wrist for women). Please send us a message for custom size options.