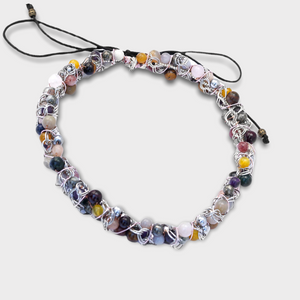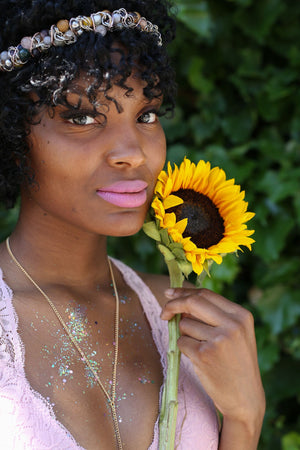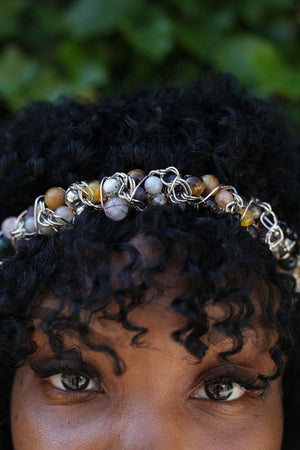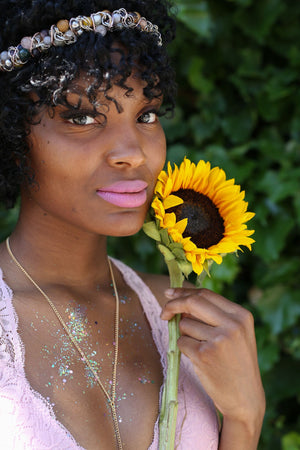 Goddess Crown: The Influencer
This handcrafted gemstone goddess crown is filled with an assortment of Agates and Quartz, Pyrite, Amethyst, Moonstone, and Lapis. "The Influencer" provides peaceful, loving, feminine energy with this crystal combination, that a goddess wearing it can share with the world.
It's then finished with a nickel free silver chain.
This piece is handcrafted to order. Orders ship between 4-6 days. 
Gemstone Information
Strawberry Quartz: This crystal has the ability to amplify your intentions of love, appreciation, and generosity. It can also radiate these energies outward and influence your environment and the people around you.
Garnet: A spiritual stone of higher thinking and self-empowerment, it is also a stone of strength and safety. ... It is a stone of prosperity and abundance, encouraging gratitude and service to others.
Amethyst: This stone is used in crystal healing to help heal personal losses and grief, bringing one gently past painful experiences. Amethyst has a gently sedative energy that can promote peacefulness, happiness, and contentment. It also is said to bring emotional stability and inner strength.
Agate: Cleanses and stabilizes the aura. It's a soothing stone and helps with concentration.
Moonstone: A nourishing, sensual, deeply feminine stone that heals and bring you back to wholeness.
Pyrite: Solar Plexus balancing. This stone is a powerful stone for manifesting wealth and prosperity.