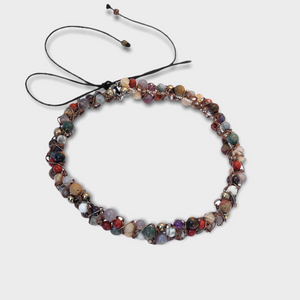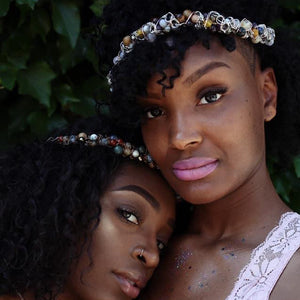 This handcrafted chakra crown is filled with an assortment of gemstones including Jaspers, Agates, Tiger's Eye, and Hematite. "Yes Queen" is very earthy piece and this crystal combination provides a lot of grounding (root chakra balancing) which is great for building foundation in your life.
Finished with a nickel free, hypoallergenic aluminum chain. 
This piece is handcrafted to order. Orders ship between 4-6 days. 
Gemstone Information 
Moss Agate: Grounding + Growth + Confidence 
Tree Agate: Stress Reliever + Calming 
Red Jasper: Stamina + Determination 
Fancy Jasper: Balance + Courage 
Hematite: Eliminates negativity 
Tiger's Eye: Focus