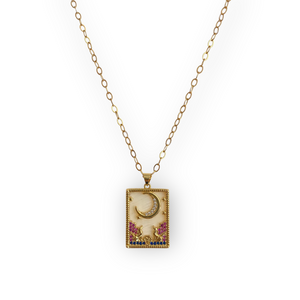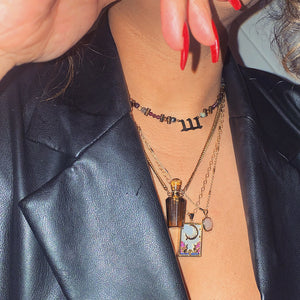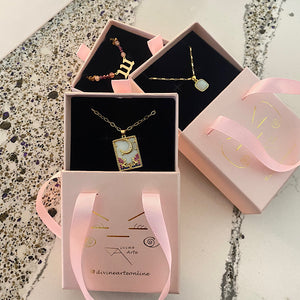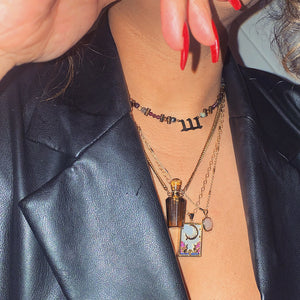 Crescent Mood is a long, layer friendly necklace featuring a true mother of pearl tarot card pendant and a 19 inch 18k gold filled circle link chain that sits right around your heart center. The Pendant represents The Moon Card in tarot which brings the energy of divine feminine alignment, unveiling truths, and trusting your intuition.
The Moon Card Breakdown
The Moon appears to have a crescent moon, with two pillars/towers, with dogs/ wolves howling, along with crayfish/lobster coming out of a water source possibly an ocean.
Spiritually it is connected to your intuition; if upright, there may be a heightened connection to what may be considered behind the veil. All is not what it seems so stay focused, stay connected, and trust yourself while on your journey. 
Styling
Any necklace that is 16 inches or shorter would layer beautifully with this piece. This pendant is eye catching and really shines with a low cut top or a full collared shirt. 
The Fit
19 inch chain + 2.5 inch pendant 
Product Materials 
Quality Findings + 14K Gold Filled + Nickel Free + Hypoallergenic
Jewelry Care Instructions
- Avoid contact with perfume, oils, and chemicals.
- Take off jewelry when working out and showering.
- Store jewelry in a dry tangle free space like a jewelry box, or rack.