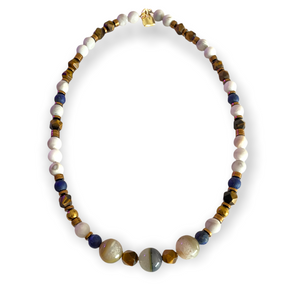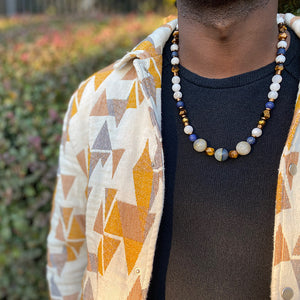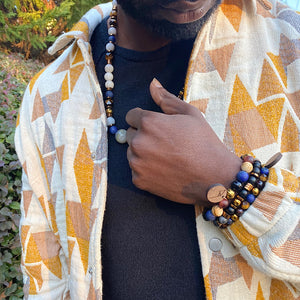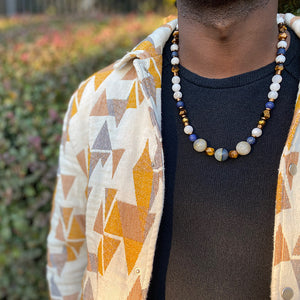 Beaded Gemstone Necklace: Aura
We created this for everyone; a gender neutral statement necklace. Aura is all about walking into a room and instantly uplifting everyone around you. This wearable art piece brings together Tiger's Eye, White Lace Agate, Lapis Lazuli, and Hematite. These gemstones aid in balancing your solar plexus, crown, and third eye chakra giving you inspiration, motivation, clarity, and enlightenment.  
Gemstone Glossary
Tiger's Eye: Protection + Decreases Anxiety + Focus
White Lace Agate: Aura Cleansing + Harmony + Release
Lapis Lazuli: Inspiration + Creativity + Enlightenment 
Hematite: Grounding + Protection + Balance
Size: 26 inches
Care: Take off jewelry when working out and showering. Wipe with a damp towel after each wear and - Store jewelry in a dry tangle-free space like a jewelry box, or rack.
Finished with a nickel free, hypoallergenic aluminum chain. 
This piece is handcrafted to order. Orders ship between 5-7 days.