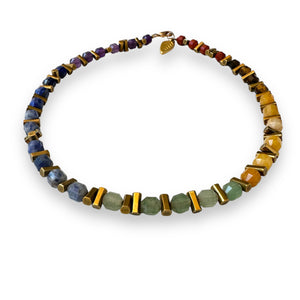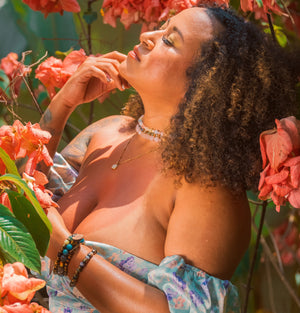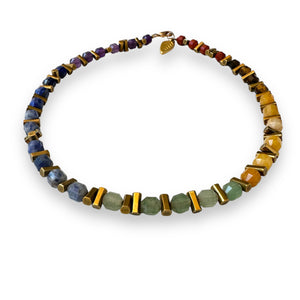 Minimalist Choker Necklace: Chakras Aligned
This Chakras Aligned necklace is hand beaded with prism faceted gemstones using a progressive pattern that represents the balance of each of your chakras. These stones promote being rooted, finding confidence, motivation, healthy communication, connection, and spirituality. Because of our life experiences we tend to have energy blockages and that refers to the idea that when all of our chakras are open, energy can run through them freely and then harmony can exist between the physical, mind, and spirit.
Though this choker is lightweight and dainty it shines bright and is great for layering with longer gold chains.
Materials:
6mm - Gold Filled Findings - Semi Precious Gemstones
Gemstone Glossary
Red Jasper (Root Chakra): Grounding + Stability + Vitality
Tiger's Eye (Sacral Chakra): Confidence + Encouragement + Motivation
Yellow Aventurine (Solar Plexus): Nourishment + Energy + Prosperity
Green Aventurine (Heart Chakra): Heart Healing + Stone Of Opportunity + Releasing 
Sodalite (Throat Chakra): Communication + Truth + Logic
Lapis Lazuli (Third Eye) : Growth + Enlightenment + Self Discovery
Amethyst (Crown Chakra): Strength + Protection + Emotional Wound Healing
Size Chart 
SM ( up to 14" in) 
MED ( up to 14.75" in)
Large ( up to 15.25 in)  
* Measure with a soft measuring tape around where the choker would sit above the neckline.  
Care
Avoid contact with perfume, oils, and chemicals. - Take off jewelry when working out and showering. - Store jewelry in a dry tangle-free space like a jewelry box, or rack.
This piece is handcrafted to order.
Orders ship between 5-7 days.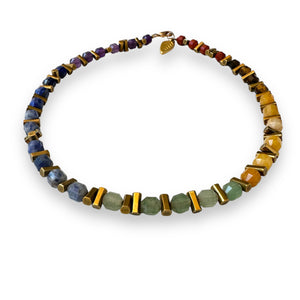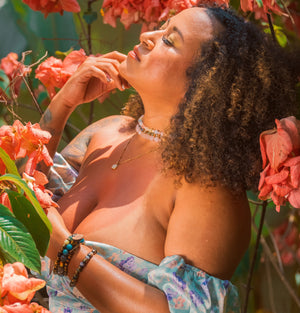 Amazing
Great quality!!! Great price. Looks beautiful!!
Gorgeous necklace
I absolutely adore this piece. It is my new favorite. I highly recommend. It is elegant, simple, can be dressed up or down…And charges all of my chakras. ❤️🧡💛💚🩵💙💜