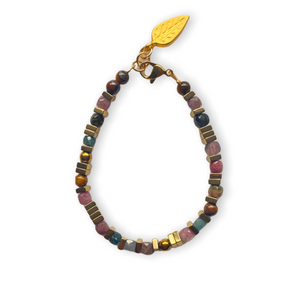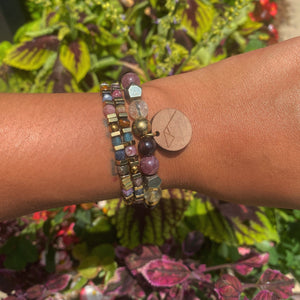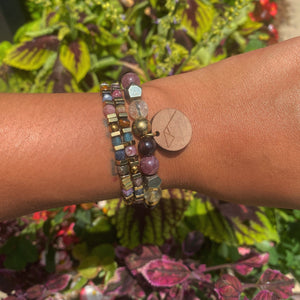 Minimalist Gemstone Bracelet: Minimalistic Vibe
Minimalistic Vibes is a dainty, lightweight bracelet offering a minimalist look with fine details. This bracelet combines gold plated Hematite, Apatite, Tiger's Eye, and mixed Tourmaline gemstone beads. The gemstones of this bracelet are all about encouragement, clarity, and balance. Style this with other bracelets for a layered look like our Vibes bracelet (check out the picture below for the suggested look). 
Materials:
4mm - Gold Filled Findings - Gold Plated Hematite + faceted square Apatite + faceted square mixed Tourmaline + Tiger's Eye  
Fit
fits up to a 8 inch wrist. 
Gemstone Glossary
Hematite: Grounding + Absorbs Negativity + Protection 
Apatite: Creativity + Clarity + Truth 
Tiger's Eye: Encouragement + Focus + Inspiration 
Tourmaline: Balance + Protection + Calm 
Size Chart
Comes with an extension to fit up to an 8" wrist. 
Care
Avoid contact with perfume, oils, and chemicals. - Take off jewelry when working out and showering. - Store jewelry in a dry tangle-free space like a jewelry box, or rack.
This piece is handcrafted to order.
Orders ship between 4-5 days.