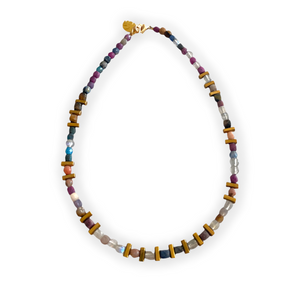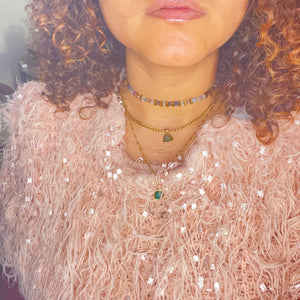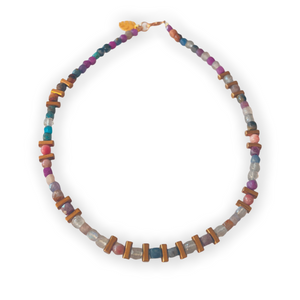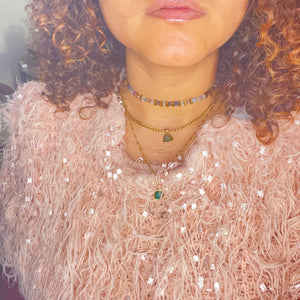 Minimalist Gemstone Necklace: My Apatite
My Apatite is a hand beaded minimalist gemstone choker that combines square cut, faceted Apatite, Pink Tourmaline, Labradorite, Rainbow Moonstone, Peitersite, and Sunstone. Though it is lightweight and dainty it shines bright and is great for layering with longer gold chains offering a fitted look.
This piece is handcrafted to order.
Orders ship between 5-7 days.
Materials:
4mm - Gold Filled Findings - Semi Precious Gemstones
Fit
This piece does not stretch. It comes with an extension and fits up to a 14" neckline. 
Gemstone Glossary
Sunstone: Energy Amplifier + Happiness + Growth
Apatite: Knowledge + Clarity + Enlightenment 
Labradorite: Manifesting Tool +  Transformation + Consciousness 
Phrenite: Harmony + Unconditional Love + Heal The Healer 
Peitersite: Self Esteem + Courage + Aura Cleansing 
Rainbow Moonstone: Balance + Compassion + Endurance 
Care
Avoid contact with perfume, oils, and chemicals. - Take off jewelry when working out and showering. - Store jewelry in a dry tangle-free space like a jewelry box, or rack.