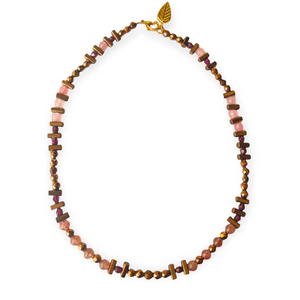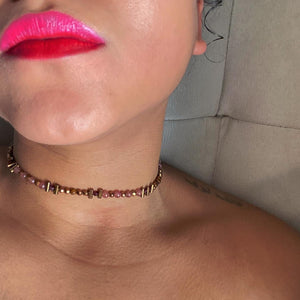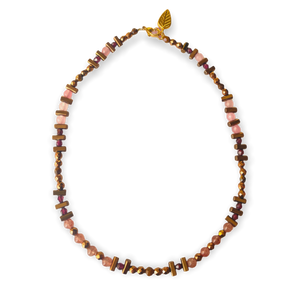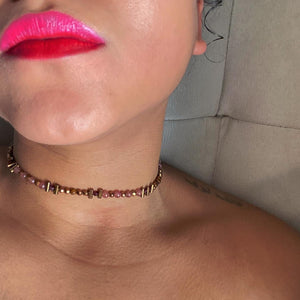 Minimalist Gemstone Necklace: I Deserve Love
I Deserve Love is a hand beaded minimalist gemstone choker that combines faceted Purple Garnet, Strawberry Quartz, Rose Quartz, and Bronze Plated Hematite. These stones promote self love, confidence, harmony, and gratitude.
Though this choker is lightweight and dainty it shines bright and is great for layering with longer gold chains. 
Materials:
4mm - Gold Filled Findings - Semi Precious Gemstones
Gemstone Glossary
Strawberry Quartz: Self Love + Confidence + Attraction
Rose Quartz: Unconditional Love + Compassion + Peace
Purple Garnet: Fire + Passion + Creativity 
Hematite: Grounding + Absorbs Negativity + Protection
Size Chart 
SM ( up to 14" in) 
MED ( up to 14.75" in)
Large ( up to 15.25 in)  
* Measure with a soft measuring tape around where the choker would sit above the neckline.  
Care
Avoid contact with perfume, oils, and chemicals. - Take off jewelry when working out and showering. - Store jewelry in a dry tangle-free space like a jewelry box, or rack.
 This piece is handcrafted to order.
Orders ship between 5-7 days.