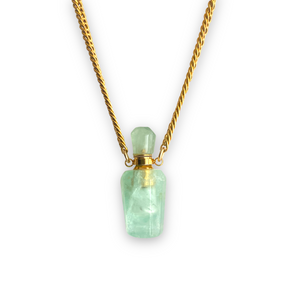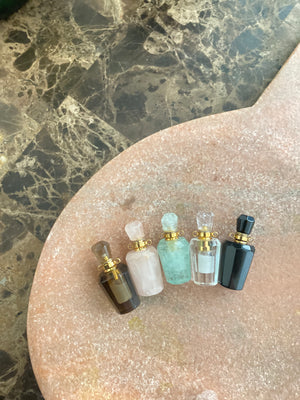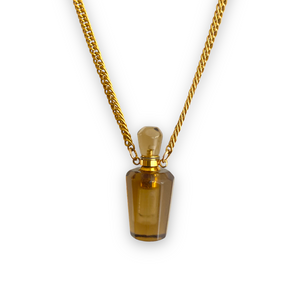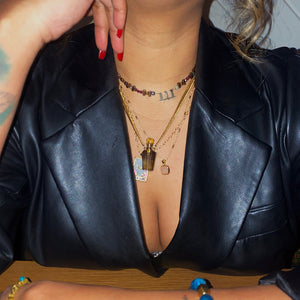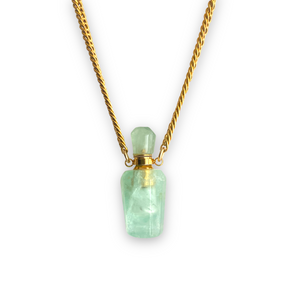 Necklace: A Bottle Of Vibes
Bottle Of Vibes is a chunky gold plated stainless steel linked chain with a bottle shaped gemstone pendant. This piece is bold and vibe-y. Each bottle comes with the option of adding an organic essential oil into the pendant for aromatherapy when needed. Simply open the bottle and inhale the aromas of eucalyptus, geranium, lemongrass, or peppermint. Pick your gemstone and essential oil before checkout. Enjoy our gemstone + essential oil glossary below.
Gemstone Glossary
Black Oynx: Grounding + Protection + Purifying
Gray Smokey Quartz:  Detoxing + Release + Stability
Rose Quartz: Self love + Compassion + Confidence
Green Aventurine: Soothing + Heart opener + Connection
Clear Quartz: Balancing + Stimulating + Clarity + Emotional healing
Essential Oil Glossary
Eucalyptus is refreshing, soothing, and grounding. Truly your connection to nature.
Geranium is soft, and delicate. Lighten your mood with this aroma.
 Lemongrass is invigorating and uplifting. Can you ask for more?
Peppermint is clarifying, and helps with headaches caused by congestion.
Styling
This mid chest gemstone essential oil holder necklace is bold and vibrate. It can be layered or worn alone. Style this with a open chest, crew neck, or fitted turtle neck top.
The Fit
18 inches chain + 2.5 inch pendant
 Product Materials
Quality Findings + Gold Plated Stainless Steel Chain + Nickel Free + Hypoallergenic
Jewelry Care Instructions
- Avoid contact with perfume, oils, and chemicals.
- Take off jewelry when working out and showering.
- Store jewelry in a dry tangle free space like a jewelry box, or rack.