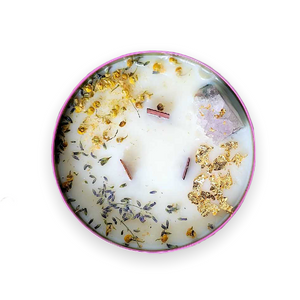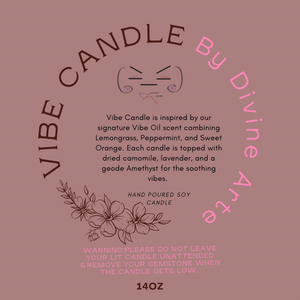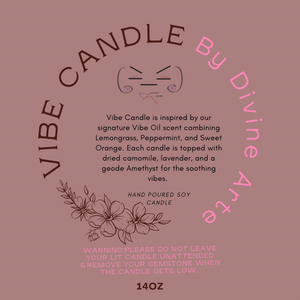 Vibe Candle is a hand poured soy candle inspired by our signature Vibe Oil bringing together Lemongrass, Lavender, and Peppermint for a sweet aroma that will uplift any room. Each candle is beautifully arranged with dried camomile, lavender, gold flakes, and a raw amethyst geode that is enjoyable before you even light it. 


This is a large format candle with a burn time of about 60 hrs. The wooden wicks give this candle a slow even burn that we know you will appreciate!  

This candle is super limited. All Orders Are Preorders! Ships December 17th. 
How To Use: 
Light the 3 wicks with intentions of self love and self care in close sight. Do not leave this candle burning unattended. The gemstone is meant to be pulled from the candle after a few uses so it doesn't burn into the flame. The cracking sound of the wooden wick is absolutely normal. Please make sure your wick is maintained by breaking off the burnt tips before you light it each time. 


WARNING:PLEASE DO NOT LEAVE YOUR LIT CANDLE UNATTENDED REMOVE YOUR GEMSTONE WHEN THE CANDLE BEGINS TO GET LOW.